Is Benas Surf club organizza ogni anno dei Surf Stage in surf camp a Bali, Indonesia. Lo stage minimo dura 14/15 giorni si svolge su un programma di 20 ore di lezioni, distribuite nell'arco di 2 settimane. Tutti gli allievi vengono alloggiati in Surf Camp in stile balinese, vicino alle spiagge, con servizio di mezza pensione incluso.
Il corso  intensivo e prevede 2/3 ore al giorno di lezione, sia in acqua che fuori. Ogni singola sessione di lezione prevede: riscaldamento, tecnica fuori dall'acqua, tecnica in acqua, remata, tecniche di defaticamento, teoria generale e specifica. La scuola fornisce tutto l'equipaggiamento utile allo svolgimento delle lezioni.
Tutti gli spostamenti nelle varie location delle lezioni sono a cura della Scuola.
Sono previsti inoltre escursioni con guida locale all'interno dell'Isola di Bali e negli spot di surf pi famosi del mondo.
Le lezioni vengono svolte in spiagge accessibili a tutti i livelli di surf, dal principiante al livello avanzato.
Le lezioni sono tenute da Istruttori Locali in possesso di Brevetto di Istruttore riconosciuto.
---
LOGISTICA SURF CAMP/ACCOMODATION
---
Gli allievi verranno alloggiati in splendidi Resort in stile Balinese, vicino alle spiagge ed ai principali servizi turistici.
Bungalows

Surf Camp is laid out for 12/14 guests. There are five double rooms with stylish bunk beds, air-conditioning, safety deposit boxes and extra blue sky bathrooms. A large, open communal living room on the ground floor is the hangout and features a stereo, TV and WI FI internet.

The Surf

Bali is one of the most beautiful and wave-blessed islands in the world. This means you can surf every day from January until December. At our local beach, Canggu, which is only a 5 minute bicycle ride away, there are 8 great waves that work on almost every swell and tide Š from beginner waves to full-on barrels it is all there right on our home beach. Within just an hour drive there are more than 60 different spots Éno matter what level of surfing youÕre at, thereÕs something for everyone here in Bali.
Is Benas Bali, offer customers a surfing program that is designed to optimize your surfing experience on two levels: Firstly, we try to make sure you are at the right spot at the right time, and secondly, we work on developing your surfing skills. To ensure we give you the maximum attention we limit our groups to four people. In this way we can really work on your individual needs.
Surf Lessons
If you are a beginner it is best to start surfing with the right equipment and coaches who really take care of you. This will help you move much faster towards mastering the art of surfing than if you start out by yourself.
Surf Guide
Our aim is taking you to the right waves at the right time. We check the swell, wind, tide, and our experience helps choose the right spot to make sure that you score a maximum of sessions during your short stay on Bali.
Surf Coaching
We try to push your level of surfing, no matter how advanced you are. Be it your first take off or your first barrel, we will help you to improve and achieve your goals.
Massage & Therapy
Manual Therapy in Bali is a must.. Whenever you want to treat an injury or ailment or just simply reward a Ņsurfed-outÓ body we have a range of treatments to suit your needs.
Bali Surf Main Spots
Bali has over 20 top-quality breaks on the Southwest and Southeast coasts of the island and around the Bukit Peninsula. Some of these breaks like Padang Padang and Uluwatu are world class barrelling reef breaks. Others range from good fun, like the beach breaks around Kuta and Sanur, to serious tubular waves. Bali gets the full force of southern ocean swells directly from the Antarctic, its south-west and south-east coasts being littered with surf spots. The dry winter months (June-Sept) are preferred for their perfect surf conditions. However, this means that these are also the most crowded times. The Monsoon, or wet season (Oct-May) still offer good waves. Bali, unlike other areas of Indonesia where all spots are heavy reef breaks for experienced surfers, actually has a lot of beach breaks accessible to all.
Padang Padang: ŅThe balinese pipelineÓ. Left . Very fast long barrelling. Breaks over a shallow coral reef and is only for expert Surfers.
Padang Padang Rights: Perfect for beginners. Long slow unbroken waves. Breaks in front of a beautiful white sandy beach.
Impossibles: Left. Fast racy wave. Reef Coral break with 3 seperate peaks that can link up with good conditions. Just for Experts or Kamikaze Surfers !!
Uluwatu: Left. Reef Coral break. Very consistent with many different peaks which all turn on at different tide stages. Experts only.
Dreamland: Right and left. Beautifull Beach break that works at different tides and is suitable for novice Surfers.
Balangan: Left. Reef Coral break on a beautiful and very quiet white sandy beach. Suitable for all surfers.
Bingin: Left. Reef Coral break. Works best at mid tide and has very consistent waves with many perfect barrels. With high tide it is perfect for long boarders or intermediate surfers. At low tide it can be very shallow and recommended for expert Surfers only.

Included in ALL Packages
Welcome drink
Flower arrangements
Fruit Basket at arrival in your room
Only homemade marmalade
1 special seafood BBQ
Fruits all day long
Healthy variations of drinking water
Afternoon tea and homemade specials
Balinese Show
Airport transfer
Beach shuttle (AM + PM)
Shuttle to Kuta on Friday night
Accommodations:
Single travelers stay in a room of The SurfersÕ House and have to be prepared to share it with someone else.
Couples or two persons traveling together can choose between a bungalow.

SURF STAR Package

600 EUR pax/week (Bungalow)
700 EUR pax/week (Best Loft)
The package includes:
5 guided and coached surf sessions per week
Theory Lessons
Surfboard rental NOT included (+ 40 EUR/week or 8 EUR/day)
3 Massages
1 Temple-trip
7 nights deluxe accommodation
7 days breakfast buffet
7 four-course dinner menu with a choice of 2 main courses
*Surfboard rental is included for those attending the lessons
DOCUMENTAZIONE NECESSARIA PER L'ACCESSO AL PAESE
INFORMAZIONI PER VIAGGIARE IN INDONESIA

- Passaporto: valido almeno 6 mesi oltre la data di ingresso in Indonesia.
- Visto: per turismo si ottiene anche all'arrivo, vale due mesi.
I passeggeri di voli speciali non di linea dovranno obbligatoriamente essere muniti di visto.
Il visto per affari va invece richiesto in Italia e vale 3 mesi con periodo di permanenza di 60 giorni.
I giornalisti stranieri che intendano recarsi in Indonesia per motivi professionali devono disporre di visto giornalistico "ad hoc" rilasciato dall'Ambasciata indonesiana a Roma e essere accreditati (tramite l'Ambasciata d'Italia Jakarta) presso il Servizio Stampa del Ministero degli Affari Esteri Indonesiano. Inoltre, i giornalisti che intendono recarsi nelle zone considerate a rischio (Molucche, Papua, Aceh, Sulawesi Centrale e Kalimantan Orientale) devono ottenere una specifica autorizzazione da parte della Polizia Indonesiana (rilasciato a Jakarta a seguito dell'accreditamento al Ministero degli Esteri) e delle Autorita' regionali (rilasciato su specifica richiesta della Polizia di Jakarta e del Ministero degli Esteri).
Si segnala che un soggiorno piu' lungo di quello concesso con il visto, e/o lo svolgimento di attivita' diverse da quelle per le quali il visto stesso e' stato concesso, costituiscono in Indonesia una grave violazione delle leggi sull'immigrazione, e come tali vengono sanzionate con elevate pene detentivee pecuniarie.
- Vaccinazioni obbligatorie: nessuna.
- Formalita' valutarie: nessuna, esiste una libera convertibilita' della valuta. E' possibile il cambio dollaro USA-Rupia. Il cambio Euro-Rupia non e' ancora abbastanza diffuso nelle zone meno turistiche e remote del Paese; a Jakarta invece, e nei principali centri, e' ormai possibile effettuare l'operazione di cambio Euro-Rupia a tassi vantaggiosi.
Sono accettate negli esercizi turistici le principali carte di credito.
- Formalita' doganali: La tassa aeroportuale per l'uscita dal paese ammonta a Rupie 100.000 a persona, mentre per gli spostamenti aerei interni e' necessario pagare una tassa di 20.000 Rupie.
CLIMA
Clima caldo-umido con temperatura media di 30 gradi Celsius. Esistono due stagioni:
Stagione delle piogge : Ottobre-Aprile. Stagione secca: Aprile-Ottobre.
FUSO ORARIO
Nel periodo in cui vige l'ora legale in Italia:
+ 5 ore rispetto all'Italia per Sumatra e Giava, + 6 ore per Bali e + 7 ore per l'Indonesia orientale.
Nel periodo in cui vige l'ora solare in Italia aggiungere +1 ora
TELEFONI
Il codice internazionale dell'Indonesia e' 0062, il numero dell'area sud di Bali (Denpasar e zone turistiche) e' 361 da aggiungere dopo l'internazionale e prima del numero telefonico o fax scelto. Per chiamate nazionali in Indonesia digitare lo '0' e poi il prefisso. Per chiamate internazionali, prima dello stato prescelto, citta' e numero, digitare 001.
Es.: 001.39.06.12345678
SITUAZIONE SANITARIA
Malaria endemica a Lombok-Kalimantan-Sulawesi. Epatite virale endemica in tutta l'Indonesia. Diffuso il tifo. Rischio di febbre dengue in alcuna zone del Paese.
PROFILASSI ANTIMALARICA: FARLA O NON FARLA? A VOI LA SCELTA
La profilassi antimalarica per quanto concerne l'isola di Bali non é da un punto di vista statistico-epidemiologico strettamente necessaria.
Per altro, il fatto che tutto l'arcipelago Indonesiano é catalogato dall'OMS come sede di ceppi malarici altamente aggressivi e resistenti a farmaci ( l'associazione consigliata é Clorochina ed Proguanile ) e la sempre più significativa presenza di popolazioni indonesiane che da molte
parti dell'arcipelago si spostano continuamentae a Bali per problemi di lavoro, in presenza di un ricchissimo vettore malarico ( zanzare ) praticamente in ogni parte dell'isola , ne consigliano comunque la specifica profilassi ad adulti e bambini. Un'alternativa alla profilassi di cui sopra può essere quella di una sommini strazione di Meflochina ( acqistabile anche in sede) in caso di
improvvise febbri acute di "sospetta" natura malarica.
POLIZZE ASSICURATIVE
Si raccomanda di sottoscrivere, prima della partenza, una polizza assicurativa infortuni che comprenda il rimborso delle spese di rimpatrio con aereo ambulanza in caso d'infortunio.
SICUREZZA
Discreta nel complesso ma tenere presenti le zone a rischio.Per l'ultimo aggiornamento e'conveniente consultare il sito della Ambasciata d'Italia in Jakarta.
NORME DI CIRCOLAZIONE STRADALE
Secondo le disposizioni di sicurezza e circolazione stradale indonesiane e valide su tutto il territorio del paese, gli stranieri intenzionati a guidare l'auto devono essere in possesso di licenza di guida Internazionale. Pertanto le patenti di guida italiane non sono riconosciute. Coloro i quali intendono guidare motoveicoli a due ruote devono possedere licenza di guida internazionale abilitata anche per i veicoli a due ruote. Per supplire alla mancanza di licenza internazionale e' possibile richiedere una patente di guida per auto o moto ,di durata provvisoria di un mese ed estensibile, presso le autorita' di polizia locali indonesiane previo superamento di esame teorico e pratico. Per la guida di veicoli motorizzati a due ruote esiste l'obbligo dell'uso del casco sia per il guidatore sia per l'eventuale passeggero. Inoltre, in aggiunta alle suddette disposizioni di sicurezza e circolazione stradale indonesiane, gli stranieri possono noleggiare e guidare solo auto o motociclette fornite di polizza assicurativa per stranieri
INDONESIA TRAVEL INFO:
Geography
Indonesia is an archipelago of 13,500 islands located in south-east Asia between Malaysia and Australia. It occupies a total area of 1,919,400 sq km of which 1,826,440 sq km is on land. The country has a 2,602 km land boundary (1,782 km with Malaysia and 820 km with Papua New Guinea) and 54,716 km of coastline. It has a strategic location along major sea lanes from Indian Ocean to Pacific Ocean. A map of Indonesia is available.
Indonesia has a tropical climate - hot and humid, but more moderate in the highlands. The terrain is mostly coastal lowlands while larger islands have interior mountains. Natural resources include petroleum, tin, natural gas, nickel, timber, bauxite, copper, fertile soils, coal, gold and silver. Indonesia has occasional floods, severe droughts, tsunamis and deforestation.

People
Indonesia has a population of 197,232,428 (July 1993 est.). Nationals of Indonesia are known as Indonesian(s). The primary ethnic group is Javanese (45%) and Sundanese (14%). The predominant religion is Muslim (87%). Languages spoken include Bahasa Indonesia (official), and English

Government
The country is known officially as Republic of Indonesia and in short, Indonesia. Indonesia is a republic. the capital is Jakarta. The national holiday is on 17 August (1945).
The Indonesian flag consists of two equal horizontal bands of red (top) and white; similar to the flag of Monaco, which is shorter; also similar to the flag of Poland, which is white (top) and red.
The emerald islands of the Indonesian archipelago have for centuries lured everyone, from missionaries to pirates, traders and more recently to tourists and backpackers. The sandalwood and spice breezes, magnificent beaches, mountains and volcanoes of these islands acting as a magnet to both ancient and modern travellers. But Indonesia is also the ultimate surfer's paradise, with hundreds of islands and unknown waves waiting to be discovered. The climate is tropical and has two main seasons: the Monsoon from November to march and the dry season from June to October. The surf is basically found on the Indian Ocean (south/west coast) while the Pacific Ocean (north/east coast ) has hardly any waves. Although there are surf spots and good waves on about any island, the main surfing destinations are the Bali, Lombok& Sumbawa islands, east of Java island, the easternmost corner of Java, and the Nias and Mentawai islands, off the west coast of Sumatra.
Bali
Although Bali is relatively small (90 miles long and 48 miles wide), it is densely populated and culturally and economically one of the most important islands of Indonesia. Bali has more than 3 million people, a great variety of countryside and probably more than 10,000 temples. While Bali may no longer be the "last frontier" surf destination, it still lies at the heart of the Indonesian surf experience, the quality of its waves and "Bali Hai" lifestyle attracting surfers from all over the world. It is also a mandatory stop for anyone on their Indo trip to the adjacent G-Land, Lombok or Sumbawa surf spots. Bali is an island of high volcanoes, rice fields, majestic temples and beautiful beaches which has maintained its traditions very well alive, but you will equally find McDonalds, surfshops, cheap restaurants, bars and plenty of nightlife in Kuta.
Climate
Tropical. Warm waters all year long ! Dry season from June to September - Wet season from October to May
Bali is a tropical island with temperatures ranging from 21 to 33"C. Dry season lasts from April until September, and that means sunshine every day. Wet season lasts from December until March, and at least a short daily shower is common. It might get a bit cooler at night, but still, temperatures mostly remain tropical. So donÕt take too many clothes! Except for one long sleeve outfit and the right shoes for hiking the volcano, shorts and tee shirts are more than enough. Besides, shopping is a must on Bali! Water temperature is a constant 28"C, so you will mostly surf in shorts. At chilly morning sessions you will sometimes wear a lycra shirt, but a neoprene shorty is not really necessary.
Immigration
You need a visa for entering Indonesia, which you can do on arrival in Bali airport for EUR 35.-. It is only valid for 30 days, so if you plan to stay longer please contact the Indonesian embassy in your country or your travel agent for further details. Note that your passport has to be valid for more than 6 months after leaving Indonesia.
Money / ATM / Credit cards
Indonesian Rupiah (IDR) is the currency on Bali. All money changers change EUR, but if you donÕt want to take too much cash with you, there are plenty of ATM machines which accept any credit or ATM (Maestro) cards from home. Most of the shops and restaurants accept credit cards as well.
Medical Information
Medical care is fine here on Bali. The most important personal first aid for cuts and wounds, common travel medication and sunscreen is still a very good idea and saves you valuable holiday time. Contact your doctor or homeopathist for vaccinations or us for further advice.
Packing Slip for Advanced Travellers
Along with your personal stuff take plenty of sunscreen with you. The risk of Malaria is still very low. But take with your prophylaxis tablets. In any case ask you doctor before going to Bali. Do not bring too much clothing with you, because we are sure that you are going to shop a lot. There are also a lot of cheap opportunities to wash your stuff.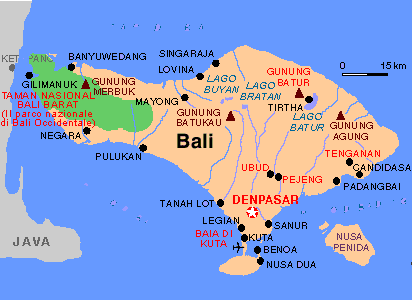 ---
Is Benas:
STORIA/HISTORY
IS BENAS PHOTO
IS BENAS VIDEO
SURF EQUIPMENT SHOP
AREA MARINA PROTETTA
SURFING SARDINIA INFO
SURF EVENTS
SURF CULTURE
SURFING TRAINING
RASSEGNA STAMPA
PRENOTAZIONI/BOOKING
TARIFFE/RATES
PROGRAMMI LEZIONI/SURF LESSONS PLAN
DATE SURF STAGES/SCHEDULED STAGES
RAGGIUNGERCI/LOCATION MAP
TESSERAMENTI/MEMBERSHIP