BEAR ITALIAN LONGBOARD TOUR 2012, presented by JEEP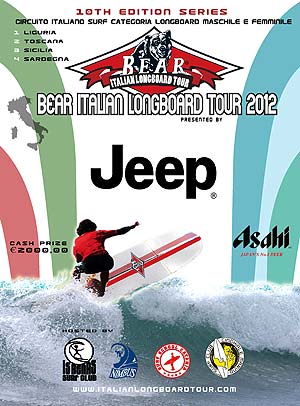 2012 EDIZIONE  ILT
Bear Surfboards and Jeep presentano:  
THE PURE SURFING TOUR   BEAR ITALIAN LONGBOARD TOUR, presented by JEEP –
ILT – CIRCUITO ITALIANO SURF A PUNTI  
CATEGORIA LONGBOARD, MASCHILE, FEMMINILE
Regioni: Sicilia, Toscana, Sardegna, Liguria
Località: Catania, Pietrasanta, Oristano, Andora   Riparte il circuito italiano di Longboard, denominato
BEAR ILT è presentato da Jeep in collaborazione con Asahi Beer .Quest'anno organizzato direttamente dai singoli surf club, e con 4 eventi in programma.
L'Italian Longboard Tour patrocinato da Bear Surfboards, azienda leader del settore, che da anni segue il circuito, investendo con successo nelle competizioni di longboard sia in Italia che all'estero. Il circuito, iniziato nel 2001, giunto alla sua dodicesima edizione, è ormai diventato un punto d'incontro unico della cultura della  "tavola Lunga" italiana. L'attività del circuito non è di carattere puramente agonistico, focalizzando l'attenzione su tutto ciò che ruota intorno al surf ed in particolare al longboard, con particolare riguardo per la difesa dell'ecosistema marino, della sportività pura e dell'amicizia. Unendo l'Italia da nord a sud, dalla Liguria alla Sicilia e dalla Sardegna alla Toscana, il circuito vuole essere anche un punto di incontro e di unione tra le diverse realtà culturali del surf del nostro Paese. Durante ogni tappa infatti, verranno organizzati incontri e sessions, per favorire la conoscenza della cultura e dei prodotti locali, oltre ad eventi dimostrativi per la salvaguardia delle nostre coste.  
EVENTI IN PROGRAMNMA:
ILT MEN & WOMEN OPEN
1 tappa: SICILIA   – CATANIA – I° CATANIA LONGBOARD CLASSIC
2 tappa: TOSCANA – PIETRASANTA – 6° NIMBUS LONGBOARD TROPHY
3 tappa: LIGURIA – ANDORA – 6° Cinghiale Marino Longboard Cup
4 tappa: SARDEGNA – ORISTANO – 12° SARDINIA LONGBOARD OPEN –
La Tappa Finale si svolgerà in Sardegna, al Mini Capo, organizzata dall'Is Benas Surf Club.
PRIZE MONEY : 2000,00 EURO
Le diverse tappe verranno chiamate con 48 ore di anticipo sul sito ufficiale e sui Social Media collegati (Twitter, Facebook). Verrà data priorità ai diversi eventi in base alle effettive condizioni meteo-marine utili allo svolgimento della gara, pertanto anche i waiting period potranno subire variazioni di calendario. L'ultima tappa si svolgerà comunque in Sardegna, per l'assegnazione del titolo e per la cerimonia ufficiale di chiusura del circuito ed assegnazione dei montepremi in base al risultato ottenuto dagli atleti durante le quattro tappe in programma. I punteggi assegnati ad ogni tappa agli atleti saranno consultabili sul sito ufficiale. Il montepremi assegnato in denaro ai primi atleti in classifica, dovrà essere utilizzato dagli stessi come contributo spese per la partecipazione ad eventi internazionali di qualsiasi genere (ISA, ASP; ESF) per rappresentare il longboarding italiano all'estero.
ATLETI AMMESSI:
Sono ammessi tutti gli atleti cittadini  italiani maggiorenni  con tavole da nove piedi, tesserati ad un qualsiasi surf club riconosciuto dal CONI come Associazione Sportiva Dilettantistica, nei modi e termini indicati nel Regolamento Generale ILT. (http://www.italianlongboardtour:com )
ISCRIZIONI: Tassa d'iscrizione unica, valida per  tutto il Circuito.
CLUB ORGANIZZATORI: IS BENAS SURF CLUB, CINGHIALE MARINO SURF CLUB, CATANIA SURF SCHOOL, NIMBUS SURF CLUB –  
ISCRIZIONI atleti: (unica iscrizione per tutte le tappe) http://www.italianlongboardtour.com/iscrizioni.html
REGOLAMENTO  GENERALE ILT: (scaricabile in versione MS Word) http://www.italianlongboardtour.com /download.html
INFO CLUBS E LOCATION DEI CONTEST: (info, foto e video su spot di gara e club organizzatori) http://www.italianlongboardtour.com /location.html
Comments
comments