SURFING ITALIA AWARDS 2011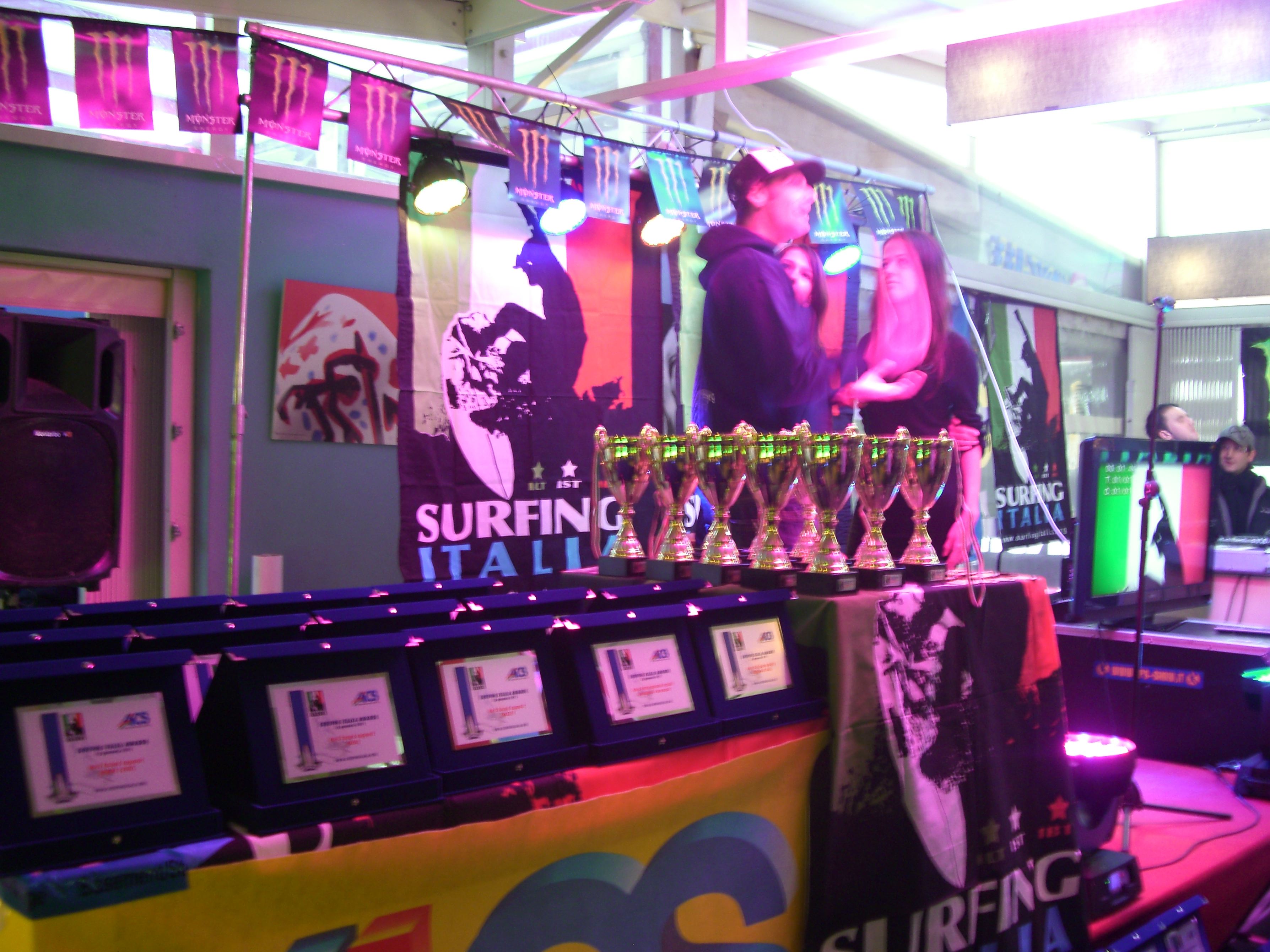 First Edition, 23 gennaio 2011
I Surfing Italia Awards sono gli "Oscar" del surf italiano. Una premiazione unica, mai svolta prima in Italia, dove i campioni di tutte le categorie del surf, e non solo,  verranno premiati per i risultati ottenuti nel 2010. Riconoscimenti anche per alcuni dei personaggi storici del surf, i campioni del passato, le nuove generazioni oltre ai 25 surf club affiliati lo scorso anno. Invitiamo tutti gli appassionati di tutte le discipline watersport nel partecipare ad un giorno di grande festa per celebrare insieme i successi dei campioni di ieri, di oggi e del domani.
QUANDO & DOVE
Il 23 gennaio 2011 presso il Bondi Cafè a Santa Marinella (Roma) dalle ore 12:30 alle 18:30.
In auto: uscita Santa Marinella/Santa Severa Autostrada A12 Roma-Civitavecchia.
In treno: fermata treno regionale Santa Severa
In aereo: 40 minuti dall'aeroporto di Fumicino
Per dormire: B/B "La Toscana" Via Aurelia, 38 – km 56,500 (5 minuti dagli Awards)
OSPITALITY
- Coffe break @ 11:30 (riservato al SUP meeting)
- Pranzo offerto su invito da Surfing Italia per tutti i premiati. Tutti gli accompagnatori e visitatori potranno comunque usufruire di una convenzione al costo di 10 € (primo, secondo, bevande, dolce)
LE NOMINATION
Best contest top44 – Protest Banzai Pro
Best long contest – Bear Sardinia Longboard Invitational
Best special surf-contest – Frozen Open Marinedda
Best sup Race contest – Surfing Italia Cup Bari
Best sup Wave contest – Turtle Padlle Cup Andora
Best junior contest – Quiksilver king of the grom Anzio
Best body contest – Quiksilver Scavi body challenge
Best regional contest – ex equo Insane Scavi Challenge + Entella Surf Classic
Best regional coordinator – Andrea Tordi, Emilia Romagna
Best event media coverage – Italia Surf Expo, S.Severa
Best brand support – (Frozen – Bear- Protest – Lightning Bolt – Insane – Quiksilver – Oakley – Monster Energy – Moki – Starboard – Naish – Jimmy Lewis)
Best international results – Leonardo Fioravanti
Best surf club activity – Ostia surf club
Rookie of the year – Alessandro De Martino
Best testimonial SI 2010 – Sunny Garcia, Hawaii
Best book 2010 – Zai Point di G. Grispello
Best video profile – Fluendo di L.Marzocca
Special awards – Graziano Lai, Sardegna
Campioni italiani 2010 categoria shortboard
I° Classificato MAN Top44 – Roberto D'amico
I° Classificata GIRLS – Valentina Vitale
I° Classificata GIRLS Under 18 – Alessandra Balistreri
I° Classificato MAN Under 18 – Roberto D'amico
I° Classificato MAN Under 16 – Niccolò Amorotti
Campioni italiani 2010 categoria Longboard
I° Classificato Man – Matteo Fabbri
I° Classificata Woman – Gioia Sodini
Campioni italiani 2010 categoria SUP (wave/race)
I° Classificato Wave Open – Alessandro Onofri
I° classificato Race 12.6 – Fabrizio Gasbarro
I° classificato Race Junior – Mario Paudice
I° classificata Race Girls Open – Silvia Mecucci
I° Classificato Race Master 12.6 – Massimo Cipollari
I° Classificato Race Master 14 – Helgo Lass
Campione italiano 2010 categoria Bodyboard
I° Classificato – Genesio Ludovisi
Campione italiano 2010 categoria Indoboard
I° Classificato – Daniele Verdecchi
WATERMANS Celebration
Windsurf: Alessandra Sensini, Andrea Rosati, Raimondo Gasperini, Alberto Menegatti, Laura Linares…
Surf: Alessandro Piu, Simone Simi, Filippo Orso, Francesca Rubegni…
SUP: Emanuele Guglielmetti, Leonard Nika, , Mirco Sarti, Bruno Giordano…
Glory hero: Giorgio Pietrangeli, Stefano Giuliani, Nicola Bresciani, Paolo D'angelo…
EVENTI & PROMOZIONI
Stand Up Paddle Board National Official Meeting: Surfing Italia presenta il primo convegno nazionale dedicato al SUP dalle ore 09:30 alle ore 12:30 (riservato a: atleti, operatori del settore, surf club organizzatori).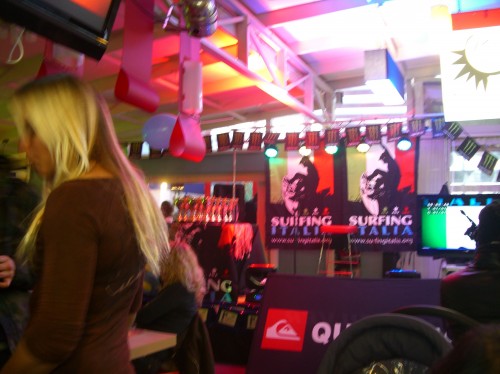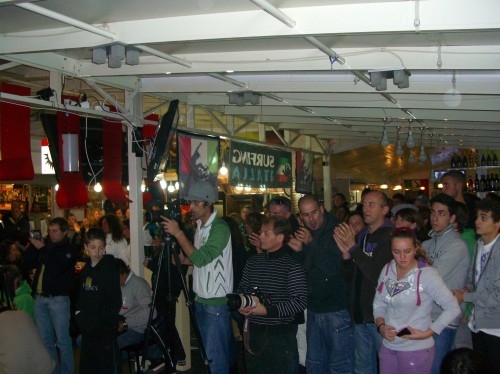 Celebration Surf club Surfing Italia affiliati 2010:

1.     DB surf school (Ostia, Lazio)
2.     Assovelica Ladispoli (Ladispoli, Lazio)
3.     Ostia surf Club (Ostia, Lazio)
4.     Anzio Surf Club (Anzio, Lazio)
5.     Santa Marinella Surf Club (S. Marinella, Lazio)
6.     Boca do Mar Surf Club (S. Agostino, Lazio)
7.     Nimbus Surf Club (Viareggio, Toscana)
8.     Cinghiale marino (Andora, Liguria)
9.     Bogliasco Surf Club (Bogliasco, Liguria)
10.   Is Benas Surf Club (Capo Mannu, Sardegna)
11.   Nesos Surf  Club (La Marinedda, Sardegna)
12.   Terza Linea Surf Club (Viareggio, Toscana)
13.   Buggerru Surf Club (Buggerru, Sardegna)
14.   Big Air Surf Club (Bari, Puglia)
15.   Point Break Surf Club (Fregene, Lazio)
16.   Metamorfosi Surf Club (Ladispoli, Lazio)
17.   Coccia Rider Surf Club (Fiumicino, Lazio)
18.   Monkey Surf Club (Riccione, Emilia Romagna)
19.   Windsurf Surf Club (Cesenatico, Emilia Romagna)
20.   Talamone Windsurf  kite Center Surf Club (Talamone, Toscana)
21.   Closeout Surf Club (Viareggio, Toscana)
22.   Chia Wind Surf Club (Chia, Sardegna)
23.   Surf Animals Surf Club (Alghero, Sardegna)
24.   Wipeout Surf Club (Cagliari, Sardegna)
25.   Fregene Surf Club (Fregene, Lazio)
Comments
comments