WEEKEND YOGA RETREAT

PERIOD: from 14 to 17 September 2018
4 Day Intensive Formula Yoga Retreat
Join us in this 4 day Yoga Retreat, pamper your self with an intensive Yoga Practice, Sup Yoga, Sun, crystal clear sea water and locally produced italian food.
Escape to the pristine white sand beaches of Sardinia's Sinis Peninsula and live an experience you'll never forget.
The program is designed to support a holistic experience and promote a deeper connection with your body, mind and soul.
This retreat is for all levels and all ages. Couples, friends and solo travellers are welcome. Most of the food prepared for our local cuisine dinners will be organic and locally produced.
Special food requests (gluten free, dairy free, vegan etc.) available upon request.
The retreat will take place at the Is Benas Surf House (Capo Mannu B&B), located in the middle of the Sinis Peninsula.
LOCATION

Sa Rocca Tunda, Sinis Península, Oristano
ACCOMODATION
Is Benas Surf House (Capo Mannu B&B)
Friday arrival, welcome, refreshments. Settle in time.
Sunset yoga,  dinner.

Saturday Morning yoga flow, fresh breakfast, free time to explore the surroundings, have lunch and chill out on the beach.
Sunset yoga, dinner.
Sunday Morning Sup Yoga class, fresh breakfast, free time for optional activities, lunch and chill out. 
Sunset yoga, dinner 

Monday Morning yoga, breakfast and farewells.
STYLES
Yin Yoga
Vinyasa, Hatha flow
SKILL LEVEL
Beginner
Intermediate
Advanced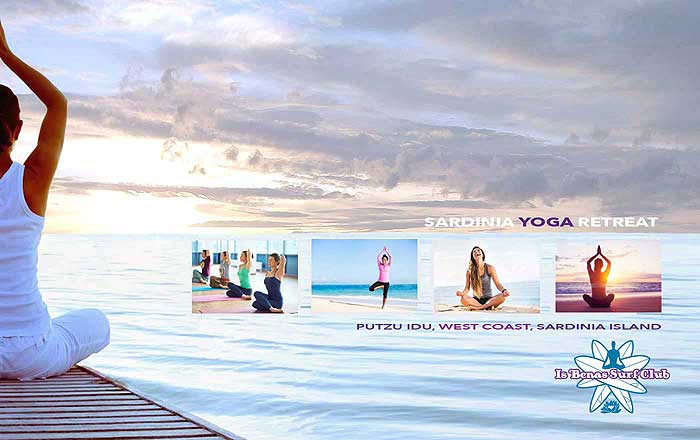 MORE INFO AND BOOKING ON LINE